A Mission and Vision
Our mission is to provide medical and non-medical transportation and educational services in the most caring and professional manner.
Our vision is to be the most trusted and valued medical and non-medical transportation provider.
Services
Offering the best in Advanced and Basic Life Support, ambulette, bariatric transport and special event coverage. Our crews are available when you need them the most.
View details »
Patient Forms
All of your patient transportation forms in one convenient place. Fill out the appropriate physician certification for your transport and let our highly-trained staff handle the rest.
View details »
---
Be heard.
Take our customer satisfaction survey.
MedCare Ambulance wants your feedback. Did we meet, or hopefully even exceed, your expectations? Is there somewhere we can do better? Make your voice heard.Click here for the survey.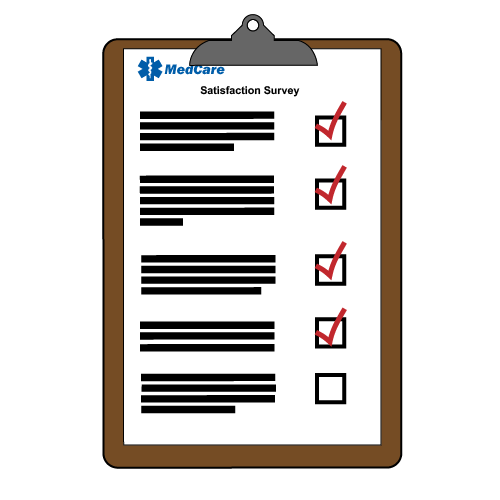 Join the team.
Become a MedCare Partner.
Are you ready to start your career as an EMT? A variety of employment opportunities are available, and MedCare Ambulance is ready to invest in you. Find out more here.
An evolving fleet.
Because quality matters.
MedCare Ambulance has kicked off a company-wide improvement initiative that includes fleet modernization and investments in equipment, personnel, training and safety measures .